Creative Yoga Hybrids to Switch Up Your Practice
As yoga has grown ever more popular, a variety of other physical practices have incorporated yoga into their repertoire. This has resulted in the rise of "hybrid" or "fusion" yoga classes, which meld yoga with other exercise styles and physical activities including acrobatics, CrossFit, paddle boarding, Pilates and even goats!.
These hybrids can challenge the body in new ways and add a mindful component to otherwise more physical practices. They also help introduce more people to the practice of yoga, since it may be less intimidating for someone who has never set foot in a yoga studio to walk into a more comfortable exercise class or activity.
At the same time, it is important to note that hybrid yoga classes may blur the lines of what yoga actually is (or was meant to be). For this reason, critics have pointed out that fusion yoga may be culturally appropriative – meaning these classes incorporate only some aspects of yoga without honouring its origins. So, as you consider different hybrid yoga classes, it is a good idea to assess whether they're respectful of the practice.
So, what are these types of hybrid yoga and how might they help you embrace even more yoga in your daily life? Just a few examples include:
Aerial Yoga
Core Fusion Yoga
Goat Yoga
HIIT Yoga
Hip Hop Yoga
SUP Yoga
Trampoline Yoga
These creative yoga hybrids certainly aren't the only fusion classes available, but they help give you a sense of just how many ways you can incorporate yoga into your wellness routine. From acrobats to goat lovers, there truly is a hybrid class for everyone. So check out the infographic below and experiment until you've settled on the right yogic fusion for you!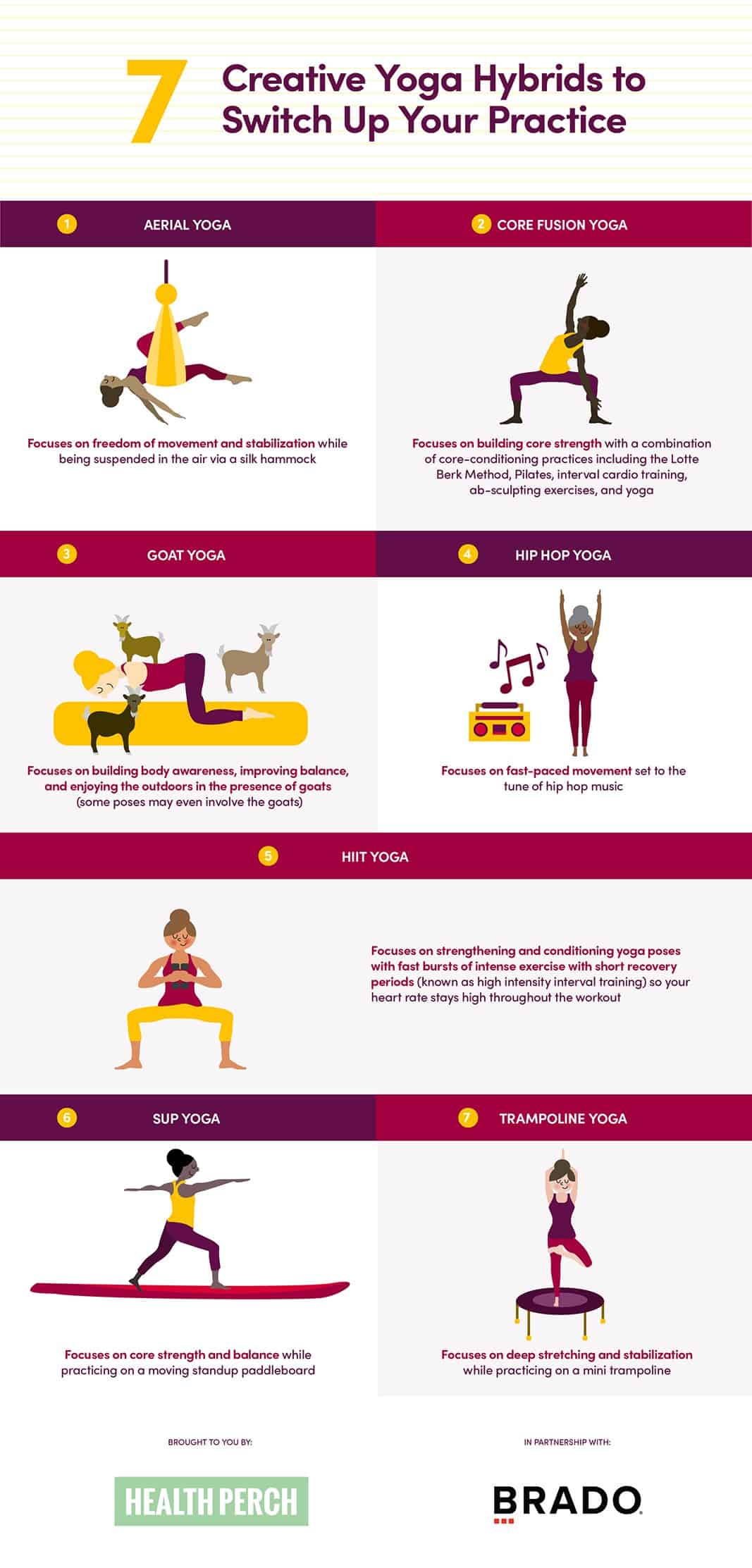 So, whilst some, may think some of my classes equally as wacky – I like to think they remain respectful to the true teachings of yoga  – My classes as progressive and innovative; a fun way of blending the old with the new. In order to understand this better, please visit one of my previous blog's – The Simply Soulful Approach is a little wacky, but it's still yoga… to read about how I integrate yoga philosophy and traditions into my classes and daily life. Whilst my style may not be purist – but my intention is.
To read the full article – CLICK HERE.
This month's guest blog has been kindly submitted by HealthPerch – A digital health magazine – and shared by Simply Soulful Yoga, with many thanks.